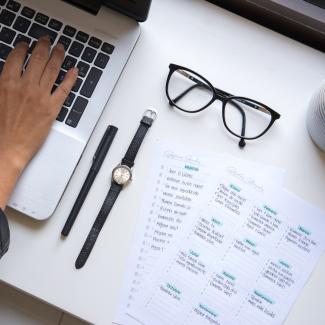 5 Tips For Financial Fitness This Summer
Article written by Scott M. Kahan in Stroll Chappaqua - July 2023 Magazine
Summer is here, when many of us are outside and focused on our health. The key to good physical health is regular practice—a fitness routine and daily eating habits—the same is true for fiscal health. You might go to the gym daily, but are you giving your money the same attention?
Now is a great time to develop good habits that focus on your whole health, including your finances. Here are 5 tips to help you get financially fit this summer.
1) SET YOUR FINANCIAL GOALS: SHORT, MEDIUM, AND LONG-TERM:
Just like you'd set a fitness goal to lose weight or beat your running time, it's also important to set financial goals. Figure out what you're working toward paying for college or retiring, buying a second home, or a new car. Identify which objectives are the most important to focus on financially. Then, consider how much you'll need to save over what time frame.
Working with a Certified Financial Planner™ professional can help you prioritize your goals and develop a plan for reaching them—a fiscal program to help you stay on track. It's like having a personal trainer; only this one's getting you into good financial shape.
2) BOOST YOUR SAVINGS WITH TODAY'S HIGHER INTEREST RATES:
Do you have savings sitting in the bank earning little to no interest? Interest rates are up. If you're not shopping around for higher yields on your savings, you're leaving money on the table. There's an opportunity today to get up to 5% on a short-term yield with no risk. If it's money you know you'll need in 1 – 2 years, consider a money market or short-term CD. The Federal Reserve has raised interest rates this year, but they won't last forever. Take advantage while you can.
3) PAY YOURSELF FIRST:
The key to healthy savings is to pay yourself, just like you'd make regular payments toward your mortgage. Maximize your 401(k) contribution, fund your 529 plan, and pay off your high-interest credit cards. Treat these payments as an expense: you're building financial strength long-term.
4) SCHEDULE REGULAR CHECK-UPS:
Like you visit the doctor for regular physical exams, having at least an annual review with your CFP® professional is important. It's one thing to review your investments but make sure to review your goals and objectives to know what you are planning for. Summer is a great time to ask your CPA questions as well. If there are items you need to review or discuss, don't wait for tax season.
5) MONITOR YOUR PROGRESS CONSISTENTLY:
While regularly scheduled time with your financial planner is essential, staying in touch between meetings is equally important. Don't wait for your annual review to get answers to your questions. A good financial planner will reach out proactively to check in and help you stay on track. Together, you'll adjust your fiscal fitness program to help you reach your goals.
Your financial health factors significantly into your overall well-being. You're likely doing everything possible to extend your life by exercising and eating right. If you plan properly, you'll have the money to enjoy that longevity.