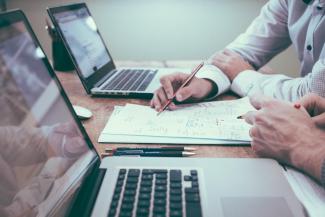 Finding The Right Financial Planner
Article written by Scott M Kahan in Stroll Chappaqua - October 2022 Magazine
Finding the right financial planner can be challenging. I will be the first to admit that different titles, designations, forms of compensation, and regulations make it confusing for people to choose the right firm. The terms financial planner, financial advisor, and wealth manager are often used interchangeably, making the search even more confusing.
Many financial planners also claim to be fiduciaries. Being a fiduciary means putting the client's interests above their own. But looking deeper, they often don't meet the fiduciary standard.
Here are four areas to carefully review when choosing a financial planner:
Services Is the firm providing financial planning or just using the term to sell financial products? At FAM, we define financial planning as helping clients to identify their goals and objectives and then working together to implement strategies to be successful. Financial planning is an ongoing and personal service; it's a road map for your life's journey. Without having a direction, how do you know what you need? Financial products are secondary to the process.
Designations There are many designations in the financial services industry. The one that stands out is the Certified Financial Planner™. In addition to passing a rigorous exam, the CFP® professional must commit to ongoing continuing education, including ethics. The CFP Board of Standards also regulates CFP® professionals, so check their background on the Board's website at https://www.cfp.net/verify-a-cfp-professional. While there are some very reputable designations, ensure the person you work with has shown competency in financial planning, not just tax, insurance, or investments.
Compensation This is where it gets muddled. Fee vs. commission seems easy, but there are variations such as fee-only or fee-based. Fee-only means that the financial planner is paid directly by you, the client, and the financial planner does not earn any commissions or other fees. Fee-based refers to a financial planner who makes commissions or charges fees. In addition, with any fees, most firms charge a percentage of the assets they manage. Commission only means financial planners are compensated when you buy a product through their firm. I always recommend that you ask the person how they are paid and how much they earn from their recommendations. Full disclosure and transparency are essential; if a financial planner is unwilling to provide this information, walk away.
Regulation The truth is that anyone can call themselves a financial planner. There is little regulation at this stage to stop them. Suppose they provide investment advice, which most do. In that case, they should be registered as an Investment Advisory firm with either the Securities and Exchange Commission (SEC) or the state where they are doing business. They must be licensed to sell those products if they sell investments or insurance. You can check the SEC (adviserinfo.sec.gov) website or Broker check (brokercheck.finra.org) to find any disciplinary actions the person may have.
How FAM is different:
As a fee-only firm, we are true fiduciaries. We also believe that anyone who claims to be a financial planner should be a CFP® professional, as we are. Our fees are set for three-year periods. The most crucial part is that we start with a holistic view of your financial life. We have in-depth discussions about your goals and objectives to learn what is important to you. We work with you to design the right strategies that fit your needs best and work with you as you go through your life's journey.